Praise for our Träd Weekend
"One of the best musical workshops I've ever been to. ... The most wholistic full-body full-spirit approach to music I've ever heard." —Bennett K.
"Really felt like you cared about us." —Bob M.
"It's more than music: what you guys are teaching me is how to look at life." —Peter B.
"Appreciated that you'd done lots of lesson planning, but were also willing to let go and go with the flow." —Aaron M.
"I absolutely LOVE the energy that you two bring to this music." —Dave D.
"I thought you both did a great job and I liked the way you worked together." —Laura S.
"THANK YOU for envisioning, planning, and enacting such a high-quality teaching weekend." —Susan C.
Past successes
| | |
| --- | --- |
| 2018-04 | Montague, MA |
| 2017-03 | Shepherdstown, WV |
| 2016-10 | Montague, MA |
| 2015-11 | Montague, MA |
| 2015-10 | Kensington, MD |
| 2015-06 | Belfast, ME |
| 2014-11 | Montague, MA |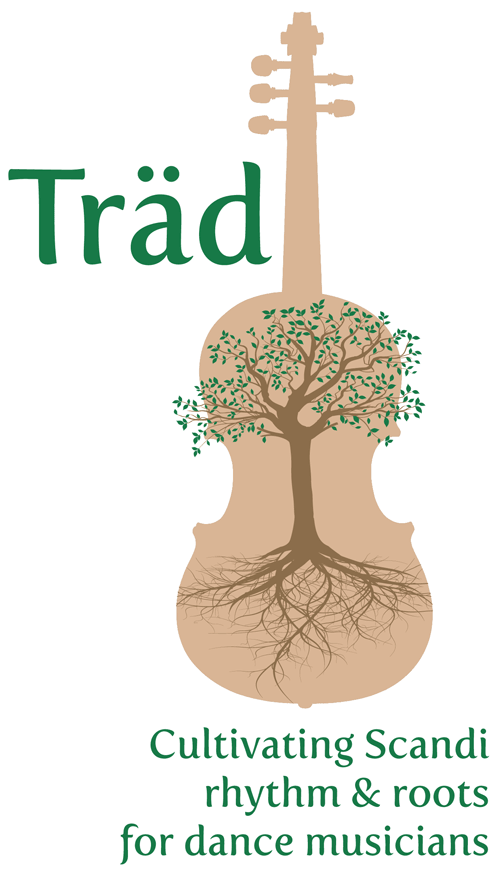 Intensive workshop for dance musicians
Our brains and notebooks are still brimming with all the amazing musical inspiration we gathered at school in Sweden, and we've developed some fun and effective ways to share them with musicians back home.
Träd Weekend
Our Träd Weekend is an intensive weekend workshop for instrumental musicians on melody instruments, largely though not exclusively slanted toward fiddle and nyckelharpa. We work on Swedish tune repertoire, learn about engaging your core rhythm, explore how dance and movement inform your role as a musician, and practice the skills of playing irresistibly inspiring music for dancing.
The teaching level is best suited to intermediate and advanced players who are comfortable learning tunes by ear.
Next opportunity comin' up soon!
Oct 19–21, 2018
in Montague MA
early registration discount
until 9/11
Maybe next time?
Interested, but can't make this one? Sign up to be sure you hear about our next offering.
Registration details
Limited space
We cap enrollment at 20 people, in order to foster the experience of a small class learning and playing together as a community.
Schedule
Our weekend begins on Friday evening at 7p, and ends Sunday afternoon at 2p. [Exact times subject to change.]
Meals
We are thrilled to be offering delicious home-cooked Swedish-influenced meals prepared by Becky Ashenden, founder of Vävstuga Swedish Weaving School. We accommodate vegetarian, vegan, and gluten-free diets when you indicate those needs on your registration form. Your registration fee includes breakfast/lunch/dinner on Saturday, breakfast/lunch on Sunday, and snacks on all three days.
Housing
We do our best to provide local hosting for everyone who wishes a friendly free place to stay on Friday and Saturday nights. So far we've found comfy homes for everyone.
Payment
$225 = Earlybird rate until Sept 11
$250 = Full price after that date
We will hold your place as soon as we have your payment in hand.
Scholarships
We aim to keep costs low and make our events affordable. We have not yet needed to turn anyone away for lack of funds. If having financial assistance would make this weekend more feasible for you, please indicate as much on your registration form, and also send us a note to say how much you feel you can comfortably pay.
Cancellation policy
We will refund your payment, less a $50 fee, up to 30 days before the beginning of the class. Cancellation with less than 30 days' notice results in forfeiture of your entire class fee. However, if we are able to fill your slot from our waiting list, we will refund the class payment, less a $50 fee.