About lydia & Andrea
Andrea and lydia have been playing Swedish-style fiddle together since 2003, and spent an intense academic year 2012–13 at the Eric Sahlström Institute in the center of the nyckelharpa universe; their duo album Fika and Trip to Tobo tunebook feature favorite tunes from that sabbatical year. (For more about that adventure, see Trip to Tobo.) In 2017 the lydia&Andrea duo was awarded a bronze medal for ensemble playing at Samspelshelgen in Sundsvall. Much of their shared repertoire comes from central regions of Sweden, with a smattering of Norwegian and Danish and beyond, and their original compositions.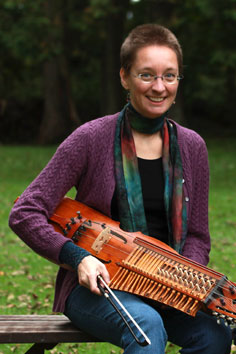 lydia ievins
lydia ievins (pronounced EYE-vinz*) plays five-string fiddle and nyckelharpa for Scandinavian and English Country dancing. Her absolute favorite thing about playing in either genre is the boundless opportunity to create rich harmonic lines. As an avid dancer herself, she infuses her playing with rhythmic clarity and sensitive phrasing to produce eminently danceable music. Her duo album Northlands with Bruce Sagan features a collection of original tunes inspired by Scandinavian traditional styles. lydia is pleased to have been awarded a bronze Zorn medal in Sweden for her playing in the Uppland tradition.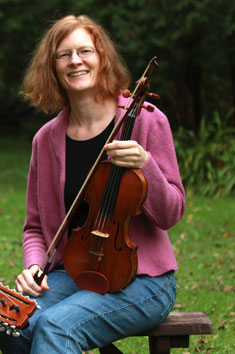 Andrea Larson
For almost two decades, Andrea's passion for Swedish folk music and dance has led her to perform across the northeast US and in Sweden. She has fiddled for Christmas Revels in New York and Boston, toured nationally as a soprano with the Waverly Consort, and performed with Orion Longsword and Grammy-nominated trio Hoag Kelley Pilzer. She is excited about having gathered a treasure trove of new teaching ideas from some of Sweden's best fiddle teachers for her new workshop series on practicing, which she has now discovered to be fun after all! She teaches violin, voice, and fiddle styles from her home studio in VA.
About the instruments
The nyckelharpa is the national instrument of Sweden, first depicted in a carving over a church doorway dated to about 1350. It has 16 strings: 3 melody strings and 1 drone string that are played with a bow, and 12 sympathetic (resonance) strings, altogether encompassing a 3-octave range. On lydia's nyckelharpa there are 37 wooden keys (nyckel means "key"), each of which plays a single note on a single string. There are about 10,000 nyckelharpa players in Sweden today and maybe around 200 in the US, according to the American Nyckelharpa Association. lydia's nyckelharpa was made in 2007 by Harry Hedbom in Karlholmsbruk, Uppland, Sweden.
lydia's 5-string fiddle was made in 2012 by Per Klinga in Mora, Dalarna, Sweden. Per names each of his instruments after a different bird; for hers lydia chose the name lövsångare (lit. "leaf singer"), a willow warbler (Phylloscopus trochilus), common in Sweden.
Andrea plays a Gaspar da Salo model violin made by Douglas Cox in Brattleboro, VT.
* Surname note: In English lydia's family pronounces their name "EYE-vinz". "Ievins" seems to stump a lot of English-speakers, but it's a perfectly normal name in Latvian. Of course it's really missing a couple of diacritics — "Ieviņš", or in this case it would regain the feminine ending instead, "Ieviņa". An ieva is a bird-cherry tree (Prunus padus); in Swedish it's a hägg.